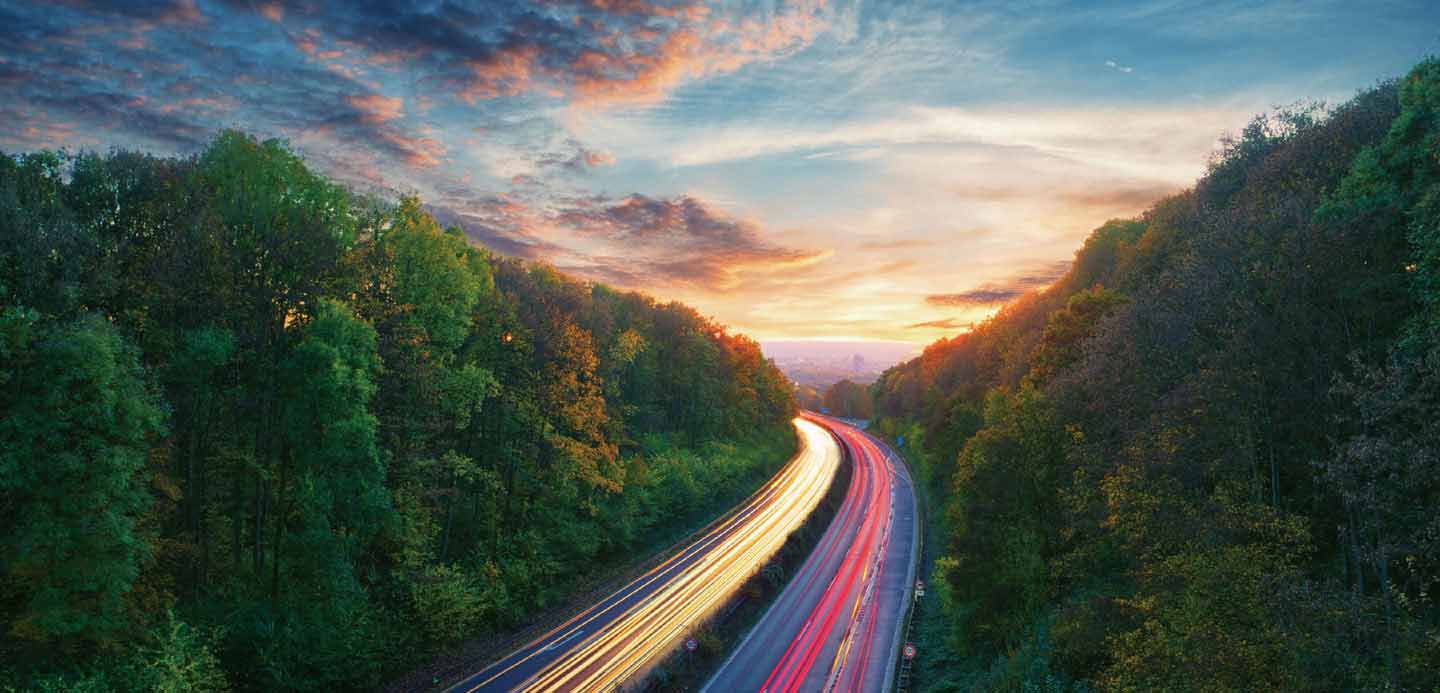 Networks of Tomorrow – The future of supply chains webinar
Global trade is rapidly changing with corporates looking for ways to navigate headwinds and position themselves for emerging opportunities. Supply chain strategies are rightfully in front and centre in this process.
We recently hosted a regional webinar in Asia Pacific, bringing into the discussion on topics around evolving supply chain landscape, macro-economic outlook, and buyer/supplier perspective on how they navigate the prevailing uncertainty and adapting to a fast-changing ecosystem. Stuart Rogers, Head of International Markets, Commercial Banking, Asia-Pacific, HSBC delivered a welcome remarks.
HSBC Global Supply Chain Research
Sustainability must be in your plans, and it must extend into your supply chains.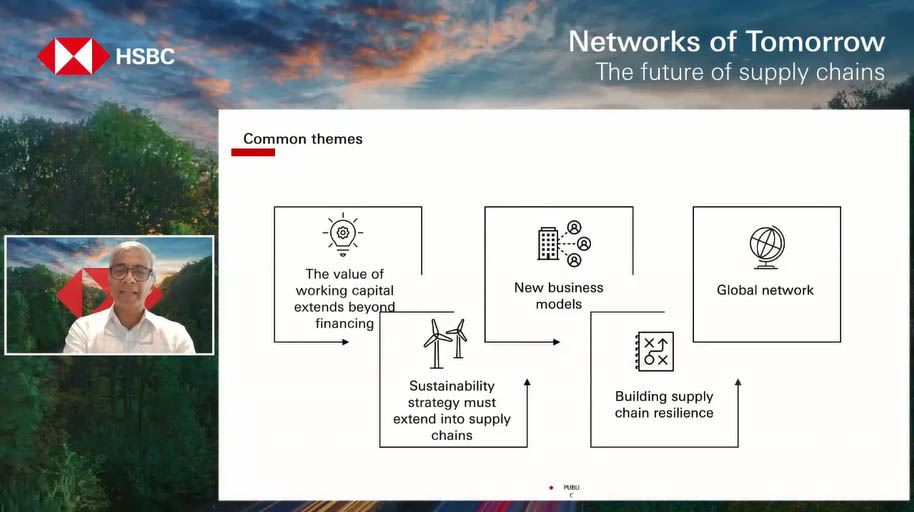 Keynote speaker Vivek Ramachandran shared key findings from the HSBC Global Supply Chain research and provided advice for clients to navigate the evolving business landscape.
Click here for more insights from HSBC Global Supply Chains – Networks of Tomorrow research.
Macro-economic outlook in Asia – Stability and resiliency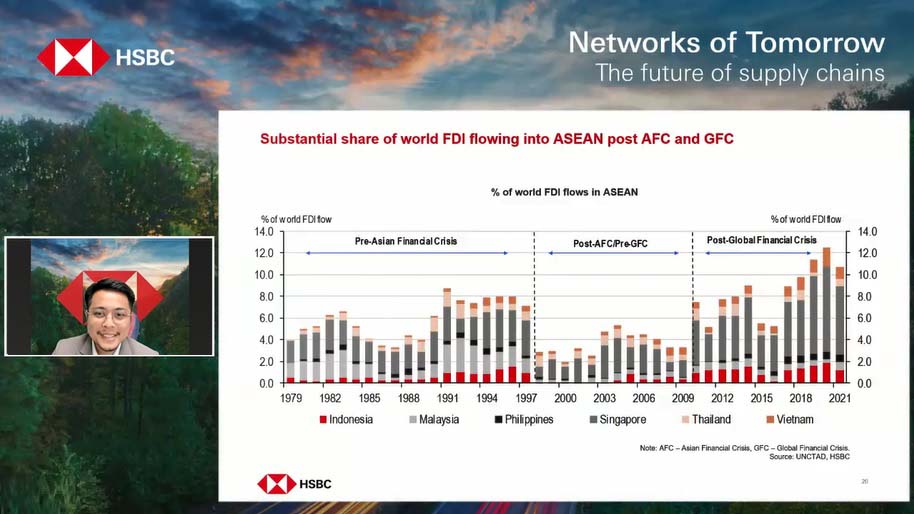 Following keynote presentation, Aris Dacanay, ASEAN Economist from HSBC Global Research provided insights on the economic outlook and the supply chain landscape in Asia.
Transform supply chains to build resilience before the next disruption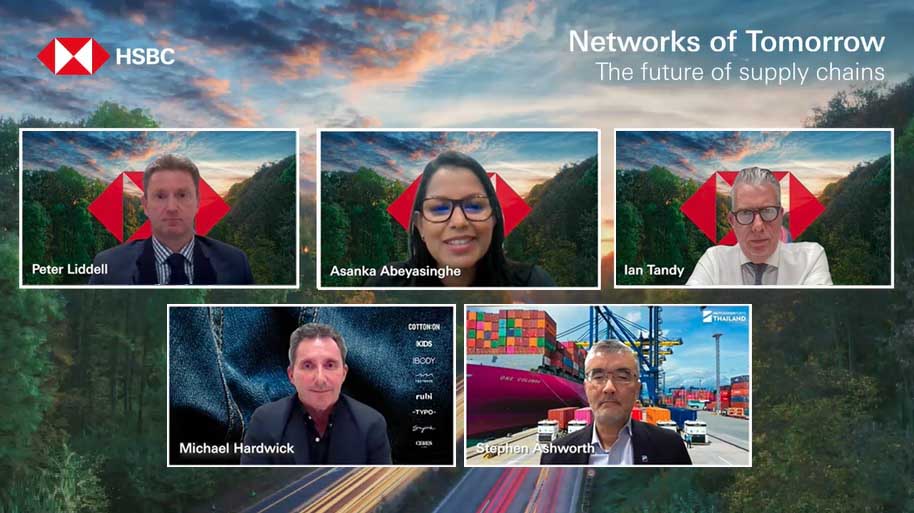 A panel discussion with Michael Hardwick, Chief Financial Officer at Cotton On Group, Stephen Ashworth, Managing Director, Thailand & South East Asia at Hutchison Ports, Peter Liddell, Global Operations Centre of Excellence Lead and Partner, KPMG and Ian Tandy, Managing Director and Co-Head of Global Trade and Receivables Finance, Asia-Pacific, HSBC on the shifting supply chain trends and how technology and sustainability should be embedded in building stronger supply chain resilience, moderated by Asanka Abeyasinghe, Head of Global Trade and Receivables Finance, HSBC Sri Lanka and Maldives.
We're starting to see a real shift and a design of future supply chains as they start to reduce carbon emissions, as they start to focus on high energy manufacturing, reduce waste and plastic, but also a focus on those social issues.
We're looking to roll out integrated working capital features for critical suppliers which effectually provides working capital ahead of the shipment, securing supply and helping customers to look after their best suppliers.
A key benefit of the work that we do around transparency and traceability is increased visibility and working with our suppliers to shift from a compliance base to a performance base attitude, giving us greater ability to drive innovation and make positive impact.
We do see technology as a very major way forward for much of the supply chain in order to help mitigate against future disruptions.